HOWDY ALL!  Sorry it's taken me so long for a new post.  Last week was my older daughter's graduation from elementary school and things have been BUSY. Back when I was in school, I don't recall there being a celebration of this sort- more like we were pushed out the door and told to hoof it to the Jr. High the next year.  But nowadays things are much more refined.
The fifth graders were feted with a bowling party, a pizza party, yearbooks and MORE.  They even had a graduation ceremony, attended by sooooooooo maaaaannny loved ones that these were our seats.
WOWZA!  Good thing I brought my glasses.
After the ceremony, my husband & I received a very important phone call.  One we had been eagerly anticipating for weeks.  The girls gifts had finally ARRIVED!
I know that photo's terrible and it may look like a box of KFC on their laps, but I assure you those are REAL LIVE CHICKENS!!  6 adorable fuzzy balls of fluff, otherwise known as Fred (short for Frederika), Cuddles, Chicken Little, and the other (as yet unnamed) 3!
Here they are in their natural habitat.  The Couch.  You might not be familiar with the domestic chicken's undying love of leather upholstery but our hens have made it clear.  Once you have couch, there's no going back.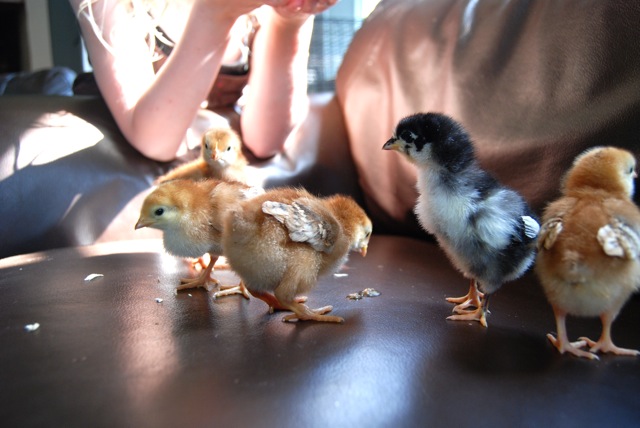 Here in Portland, MAINE we're allowed to keep 6 chickens (NO ROOSTERS), and as soon as they get big enough to live outside, we'll have to go to City Hall for our Chicken Permit.  It costs $25 dollars & is mandatory for all honest citizens.
To be honest, that's more than we paid for all 6 chickens, but who am I to argue?
We are now the proud owners of 6 hens: 4 Rhode Island Reds and 2 Australorps.  I can't tell any of the 4 Rhode Island Reds apart.  They are all big and hungry.  The two Australorps are easier to identify, mostly b/c they're black & white speckled.  Also, one is much larger than the other (hence the name, Chicken Little).  Chicken Little is the underchicken of the flock and therefore receives the most attention, encouragement and handling.  Here she is:
My younger daughter likes to keep a chicken nearby at all times, so the chicks are learning to appreciate things like playing games on the computer & watching TV.