My husband was outside yesterday when I heard him shout, "Baby, come quick! There's a moth out here that looks just like a hummingbird!!"  I grabbed my camera and ran to join him.  Sure enough, at the side of our driveway, hovering above our butterfly bush, was a moth w/wings so fast they could barely be seen.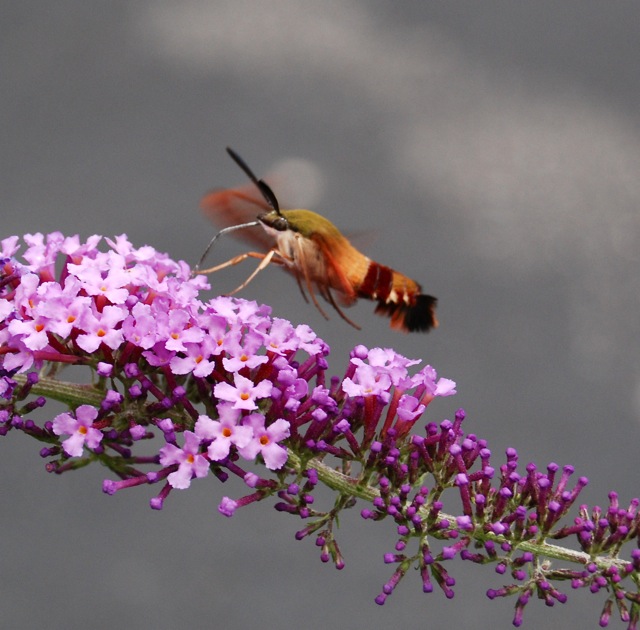 Each wing had a clear, glass-like panel.
Its wingspan was maybe 2 inches or so, no where near the Luna Moth we'd found last year, but certainly impressive all the same.  We watched it dart amongst the flowers, and it seemed okay with me taking its photo as long as I stayed back.  It remained only a minute or so before zooming off.
Maybe it's the Mainer in me, but with its body shape & tiny danglers I think it looks like a little flying lobster!  Anyway, after it took off, I went straight to the computer.  A quick Google search identified the creature as Hemaris thysbe, or Hummingbird Clearwing Moth.  With a range encompassing the entire eastern half of the continental United States, from Maine south to Texas and Florida, these amazing creatures may be waiting outside for you too.  I've submitted my sighting to BAMONA and am awaiting confirmation.  Very, very cool!