The chickens have been w/ us 7 weeks, and although confident in my ability to care for them, I'm still feeling like a teacher with a new class.  I can identify two of the chickens (the larger and smaller black ones) but the other 4 red ones, forget it.  I speak to them sweetly and try to be impartial.  Ooooh aren't you cute, mumblemumblemumble.. and YOU, soandso….
You've seen their house.  Inside its confines they have an endless supply of food and we've taken to dishing out additional treats.  Our chickens like table scraps.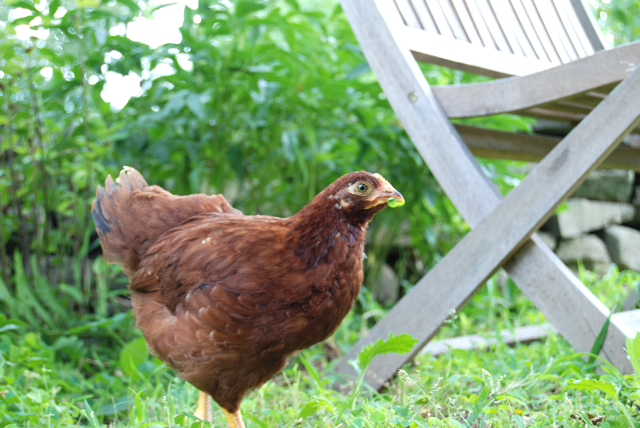 Their very favorite people food is spaghetti.  Whenever I make a pound of pasta, we always have a little bit left.  Not enough for a meal the next day, but more than enough to make some chickens happy!  I toss a few strands at a time and the chickens go WILD, trying to catch one before it's gone.  I am convinced they think the pasta is worms.  Worms are GOLD.  Whenever a lucky chicken comes upon an unsuspecting worm, she snatches it and takes OFF! trying her best to flee from the rest of the feathered flock.  I knew about the pecking order, but what I didn't know was how much chickens fight over food.  Mealtime in our chicken house could be a new reality show.  ANGRY BUFFET.  And watch out while feeding them b/c they also like to peck anything interesting on your person.  Rings, shoelaces and scabs. This morning one of them pecked my daughter in the eye.  Good thing their beaks are fairly round instead of pointy.
Our chickens like to eat not just chicken feed and table scraps, but pretty much anything they can cram into their craws.  Like pieces of plastic straw.  And zucchini.  We found this out the hard way.  NOT the straw; that I managed to wrestle away.  (To the motorist who threw his/her McDonalds sack on our lawn, introducing our chickens to their first piece of plastic, Sir/Madam: YOU SUCK.)
The zucchini was a discovery we made recently.  Our chickens live in their palatial chickomonium most of the time, but periodically throughout the day we let them free range in the yard.
They LOVE free ranging!  They scurry as a huddled mass, wading through the pachysandra, crawling beneath the bushes and even climbing the rock walls, vacuuming up all the bugs that come their way.  When we want them back in the pen, we herd them en masse.  Roxy (our Rottweiler) is a particularly astute herder, but truth be told, my daughters reign supreme as chicken wranglers.  Me?  I am the worst.  Watching me try to catch one of these chickens is like slapstick comedy; round & round & round the bush we go. (*cue silly music*)
Anyhoo – I got the brilliant idea a couple weeks ago to put our chickens in our fenced-in vegetable garden.  Instead of worrying about them while they free range unattended, they'd be at least semi-protected from predators behind the fence.  Additionally, they could eat all the pesky insects preying on our veggies, acting as our own organic pest control.  SO SMART!  You know I was self-congratulating myself thoroughly for coming up with this one.  Until Day 3 of Chickens in the Garden, when I found one of our prize zucchini half pecked to death.  And then his brother.  And his other brother.  Grrrrrrr..  No more chickens in the garden!!! (yes, i did give them the zucchinis.  which they ate alllll the way down to the skins, leaving just a wisp of shell behind.)