Cheap plastic shopping bags: the bane of modern existence.
Apart from doggie doodie and cat pan scooping, I can't find enough uses for these cheap plastic bags.  Half of them rip the first time they're used (often during use), the rest simply take up space.
I thought no good could ever come of cheap plastic bags until the day my friend Hayden sent me one of the most thoughtful and USEFUL gifts ever.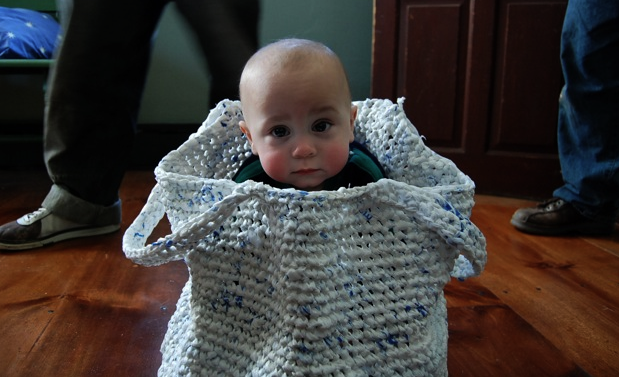 That big white sack above is made of the very plastic bags I so despise! Hayden crocheted it in her spare time – completely unbeknownst to me – and mailed it as a token of our friendship. It's truly one of the nicest gifts I've ever received. A testament to the power of creativity & proof positive that even the lowliest objects have redeeming value when reused wisely.

It's been over a year since Hayden sent my magic bag and maaaany shopping trips later, it's still in stellar shape.  Look at the craftsmanship!
It's pretty amazing.  I hate cheap plastic bags for a multitude of reasons.  Yet, this bag – which is entirely composed of them – I absolutely adore. Not only is it waterproof, but it stretches and is super duper strong (see photo above).  Best part?  Hayden configured it so that the bottom holds a large cardboard cut-out.
Regardless of what I'm carrying, the bag stays sturdy and flat on the bottom, so the contents don't get jumbled or squished. I can't tell you how many times this has saved me!  All summer I used it to transport our weekly farmer's market purchases.  My super bag held masses of leafy greens, delicate tomatoes, cukes, peppers, eggplant, cauliflowers, squash, fruit, you name it – and nothing ever got bruised. I take it with me when I stock up at Trader Joe's and it holds countless boxes, cans and heavy jars. Everywhere I go I bring my bag, and everywhere I go someone inevitably asks about it. WOW! That bag is so cool! Did you make it? What's it made of?  Is that plastic bags??!! and so on. I tell them all about my awesome friend Hayden and my awesome bag.
I've done this SO MANY TIMES, I finally decided to write a blog post to bring more attention to this wonderful re-use of plastic bags.
If you'd like to make your very own "Plastic Bag" bag, here are a few links:
DIY Network – Recycled-Plastic Carryall
Family Crafts – Grocery Bag Tote
Marlo's Crochet Corner – Plastic Bag Tote
But… why stop there?  Plastic bags are cheap and abundant – and so versatile!!
Make your very own stylish Plastic Bag Raincoat!
and a Wicked Cool Dress!
Happy recycling, everyone!