Last week was Vacation Week here in Maine, known elsewhere as Spring Break.  Some people travel, others enjoy local sites.  But we opted for something else altogether.  A "staycation" Dole House Style.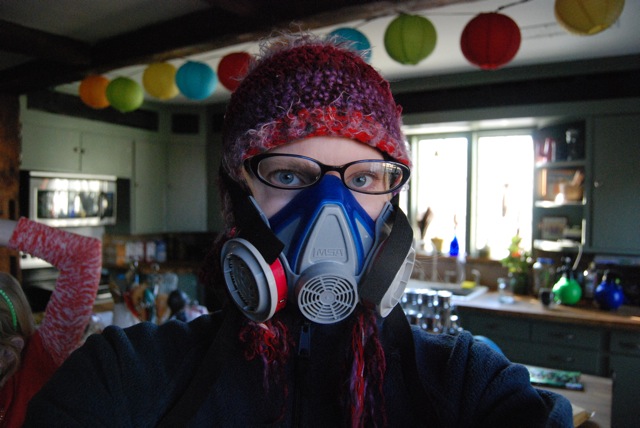 So strap on that respirator — Ain't no party like a DOLE HOUSE PAR-TAY!
When we bought our 250 year-old 'fixer upper' 20 mos ago (and BOY it feels like we've been here a WHOLE LOT LONGER), we inherited some items from the former owners.  Mostly that mountain of wood in the photo above.  Initially we believed this wood would prove useful in the restoration process of the two (formerly) unfinished rooms on our 1st floor (now our Dining Room and Office).  Much of this left-behind wood had come from those rooms originally and we thought it could/should be reinstalled.  We thought it would save us $$$.
2 VACATION WEEKS +
3 DUMPSTERS +
2 THOUSAND DOLLAR$$$$ later =
HAHAHHAHAHHAHAHHAHAHAH!!!
Bottom line? Forget about broom swept.  When you buy a house, buy it EMPTY.  We bought a house with a lot of old wood.  Wood we couldn't actually reuse b/c it was coated in flaking chipping paint – origin and chemical composition unknown.  And with 2 young daughters and countless braincells of our own to consider, not worth the risk.  We opted to purchase newly milled woodwork when we restored both rooms.  Expensive, but necessary and worth the investment.  So what to do with all that left-behind wood?  Dumpster city, baby.  Last year's VACATION WEEK! took care of the castoffs stored in the basement, as well as the construction debris we'd accrued in the process of restoration.  This year's VACATION WEEK goal?  Get rid of the rest.
This is what our attic looked like when we moved in.
That's alotta wood!  And that's only one corner.  The attic is 1 and a 1/2 stories high and runs the length & breadth of our house.  Roughly 1500 square feet of old wood accumulation, plus the rafters.  The 250 year old trim from the (formerly unfinished) rooms was just a small portion of what was left.  And the former owners tossed FOUR ENTIRE DUMPSTERS before putting the house on the market.  That alone is pretty unfathomable.
But it gets better.  For the past 3 months, whenever he got the chance, my husband was up in the attic taking everything else apart.  As in WALLS.  You can get a sense of what I'm talking about from the photos below.
The former owner had used the attic not only as storage, but workshop, and had divided the enormous space into several separate areas.  My husband took down ALL OF THIS. The walls, dividers, shelving units, storage, etc.  Rendering the attic a single open space.  Then he removed all of the particle board and/or drywall covering the exterior walls, in order to extract the insulation behind.
Portions of the attic had been insulated, but the insulation wasn't uniformly installed.  Only a quarter of the outer walls had any insulation at all, and what remained was providing comfy bedding for unwanted visitors, concealing several leaks and encouraging mold growth.  Bird's nest soup, anyone?

We bagged up all the nastified insulation.  But once all the walls, etc. were taken down, we were actually left with TWICE as much unwanted wood as before.  So we began the process of ORGANIZATION.  Crazy to think you need to organize crap you're getting rid of it, but true.  We were able to offload some of it via Craigslist.  Better a home than a landfill – and it didn't cost us a penny!  People came and collected all sorts of stuff, from particle board to antique doors to all the old barn board my brother-in-law had removed from the rafters.  The rest?
The mountain you see before you.  The first dumpster was delivered on Friday & by Sunday evening it was FULL.  Monday we ordered dumpster #2.  We still had 20+ contractor bags of hantavirus in the attic, plus assorted debris.  And we hadn't even touched the basement!  That's right; more stuff!  Although we'd filled a dumpster during last year's Vacation Week extravaganza, we still had crap leftover.  We'd reasoned, "Well.. we're gonna have to clean out the attic next year anyway, it can wait.."  And so it did – until last week.
The good news?  As of this moment, both our basement and attic are cleaned out COMPLETELY of all unwanted debris.  HOOORRRAYYYYYYY!!!!
The bad news?  Now that the attic is cleaned out, my husband has begun prying up the plywood in order to level the floor – the first step in "finishing" the space. Which (between you and me) is a grand idea, but the prying up process seems to be uncovering (you guessed it) MORE WOOD.
I'll leave you w/ a few parting shots of our cleaned out attic.  And if you'll excuse me, I'll be in the backyard prepping for a bonfire.  Just in case.